0% Financing Available for 18 Months!!*
Complete Roofing Services by Your Local Roofing Contractors in Kansas City and Springfield
Being the largest investment you'll make in your lifetime, the next best investment – and the most important one – you will make is to have a trusted roofing company working for you. There are a lot of roofing contractors across Kansas City, but not all will cover every roofing service you need for maximum protection. At Pyramid Roofing Company, Inc, we provide comprehensive, professional roofing services at a fair price for roof repairs, roof replacements, roof installations, roof inspections, and more!
You deserve a roof you can count on for years to come! Don't take any chances when protecting your home or business. Call 816-966-1101 or Message Pyramid Roofing Company, Inc. today!

Get the security of knowing you're getting the best roof possible and the best price possible

You deserve a roof you can count on for years to come

Pyramid Roofing has 30+ years of delivering high-quality roofing for both commercial and residential locations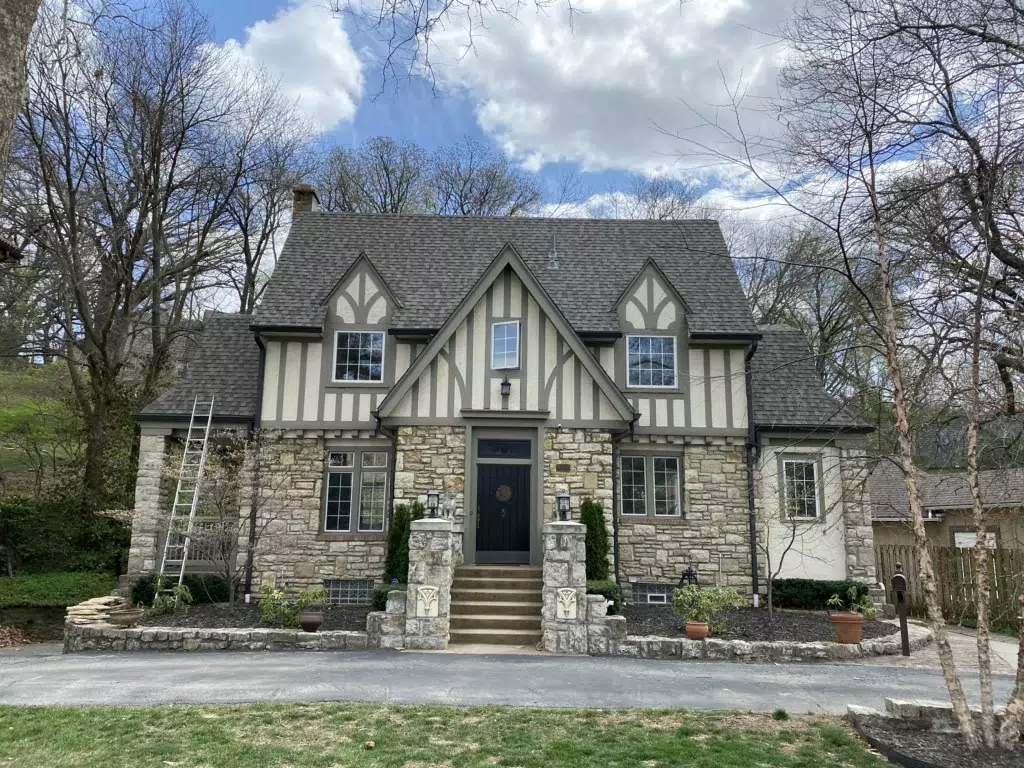 We Have You Covered With These Roof Installation and Roof Repair Services
A worn-out old roof is more than an eye sore. It's a safety hazard. And overlooking missing shingles and roof damage can lead to more expenses than a basic roof leak repair. You need an expert roof replacement, installation, and repair services from honest roofing contractors who know exactly what needs to be done and the right materials to use. With expert roof inspection and proper roofing installation, you'll rest at ease knowing you have a solid roof that will protect your house for many years.
What you can expect…

With expert inspection and proper installation, you will enjoy a roof you're proud of for years to come

We work with all major manufacturers including; Certainteed, GAF, Tamko, Boral, Owens Corning, & Euroshield.

Pyramind Roofing has the right material for any kind of roofing – asphalt, tile, steel and more!

And we go the extra mile, offering manufacturers warranties to ensure your peace of mind
Your Property Deserves A Roofing Company You Can Trust
When it comes to the old roof over your head, experience matters. Since 1992, Pyramid Roofing Company, Inc. has delivered high-quality commercial and residential roofing services with the utmost honesty and integrity. We stay on top of industry standards and new developments, ensuring we use the right equipment and top-quality roofing materials (asphalt, tile, steel, and more) for each unique roof installation and repair job.
At Pyramid Roofing Company, Inc., we understand the importance of good communication, integrity, and getting the job done right the first time. This is why we strive to go above and beyond for every customer to perform superior workmanship at a fair price. We're here to build durable roofs and strong relationships from inspection to complete roof replacement.
Not sure where to start? Call your local roofer today! Or send us a Message Here. Our consultations are always "on the house."
Building durable roofs & strong relationships.
At Pyramid Roofing we prize integrity and professionalism above all else and are committed to providing you with quality roofing solutions. With our dedication to superior products and exceptional workmanship, you can be confident you're receiving the highest value for your money. We'll work hard to earn your trust and to make sure your roofing problem is solved quickly and efficiently.
Ready to Get Started? Call Today! Our Consultations are "On the House!"
Working with us, you can have the security of knowing you're getting the best roof possible at the best price possible. Message Here with any questions or call Pyramid Roofing Company, Inc. in Kansas City at 816-966-1101 today!

Contact us for a FREE on-the-spot estimate
Our expert roof inspectors will thoroughly inspect your roof and provide a fair estimate.

Our experienced team of expert builders will install your new roof with top quality products
We'll deconstruct your old roof and install a new one with high quality products.

Sleep well knowing you've got a good roof over your head
After our clean-up process, our inspector will complete a final inspection to confirm your roof is of perfect Pyramid quality.