Pyramid Roofing Provides Standing Seam Metal Roofing
More and more homeowners are choosing standing seam metal roofing. Metal roof panels offer unparalleled strength, durability, and longevity. With its many advantages and wide range of colors and styles, metal roofing has quickly become one of the most popular options. Learn more about metal roofs and their benefits, and you'll understand why residents throughout Kansas City, Springfield, and all surrounding areas are choosing metal roofing.
At Pyramid Roofing, we deliver dependable metal roof services, including metal roof installation, high-quality metal roofing materials, repairs, and maintenance. Call the experts at Pyramid Roofing or Message Here today to discuss how a metal roof can protect your home and get a free estimate. 
Call 816-966-1101 in Kansas City or 417-943-4011 in Springfield. 
Metal Roof VS Shingles – What You Need To Know
Metal roofing panels and shingles are the two most common choices for homeowners. So the logical question to ask is: are metal roofs the better choice? The first factor is cost. Shingle installation is generally simpler and costs less. And while metal roofing installation has a higher cost and requires specialized experience, it's important to keep in mind that metal roof panels require far fewer repairs due to their stability and last, on average, nearly three times as long as traditional shingle roofs. Another factor is appearance. With today's advances, metal roofing colors and styles are now as varied as shingles. Whatever your home's style, your metal roof will be aesthetically pleasing and functional. 
Standing Seam Metal Roofing Offers Durability And Longevity–And Even Lowers Your Power Bill
More and more homeowners are interested in metal roofing panels, though they're often unsure about which type to select. Call Pyramid Roofing and one of our experts will be happy to answer any questions you have about metal roofing sheets, corrugated metal roofing, and more. Call 816-966-1101 in Kansas City or 417-943-4011 in Springfield.
In the meantime, learn more about all the amazing benefits a standing seam metal roof offers!
We Provide Custom Metal Roofing Colors For Kansas City and Springfield Homes
We offer metal roof gauges of 24ga, 26ga, and 29ga. Metal roofing colors and styles are now as diverse as traditional roofing. Whatever your home's style, you'll be sure to create the perfect finished look. Take a look at all the options, then give us a call!
Standing Seam Metal Roofing Colors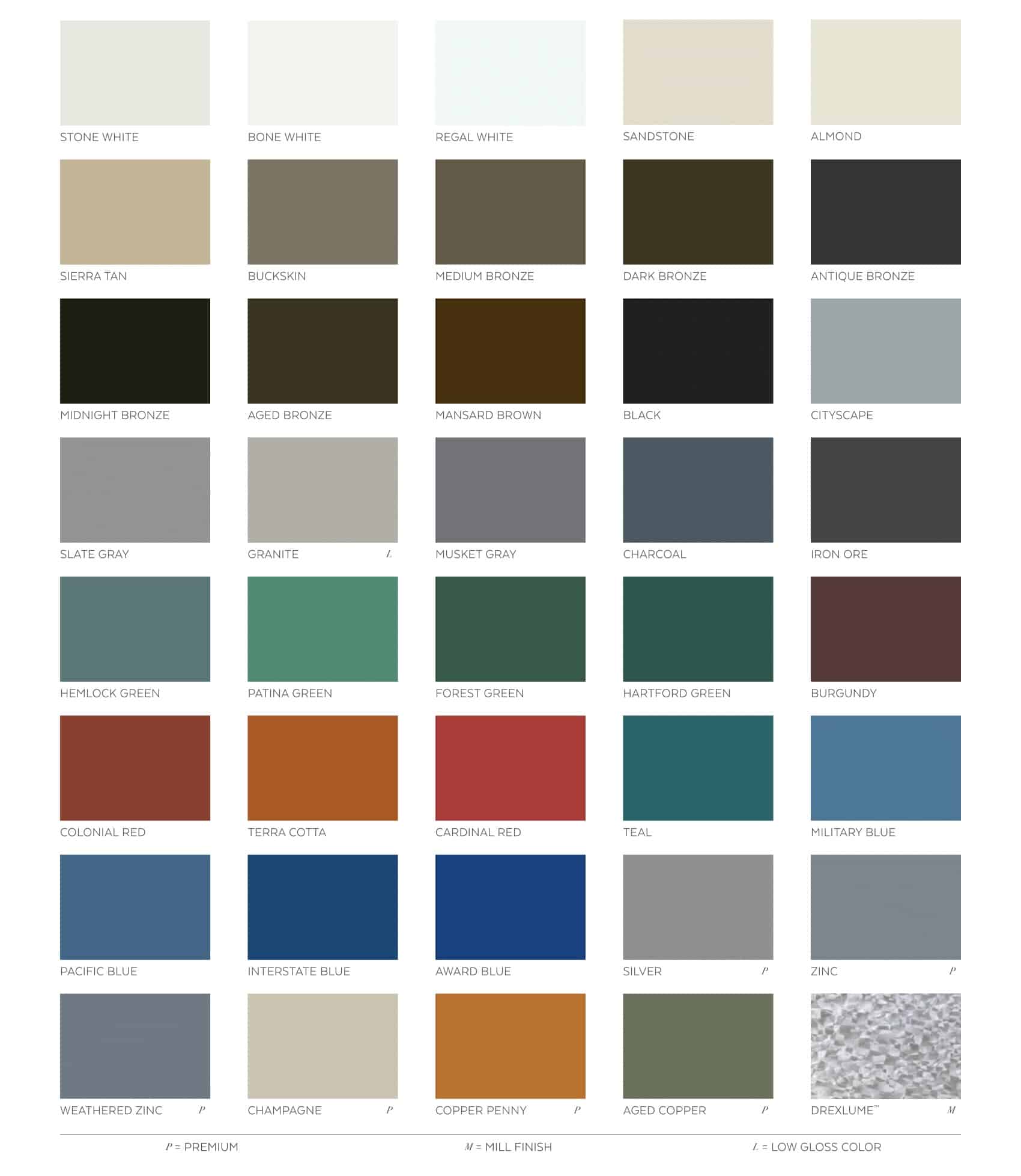 Metal Roof Materials
Metal roofing materials come in steel, aluminum, copper, and alloy strips, and in various shapes and textures. Copper can get expensive, but after a while, the copper turns a greenish patina that many people find attractive. Metal roofs can be made to resemble other materials or textures, so it is actually quite versatile.
Let's get started! Get a FREE Estimate today!
Benefits Of Metal For Commercial Roofing
In the business world, the bottom line is king, and quality commercial metal roofing is critical to protecting your building and your assets inside. Protect your commercial building with metal roofing installation, today's most weather-resistant and durable roofing system. Standing seam metal roof types are the leading practical solution for businesses with specific benefits, including:
Strength:

As of the of the sturdiest options today, they protect against all levels of weather conditions and can withstand wind gusts of more than 150mph.

Complimentary to Various Structures:

The simple design of corrugated metal roofing and other various metal roof types work easily for any type, style, and size of commercial building.

Cost & Energy Efficient:

Over the long run, you'll enjoy extensive energy savings due to the reflective nature of metal that prevents heat absorption. Not to mention saving money with fewer repairs, replacements, and lower maintenance.
Message Here or Call 816-966-1101 in Kansas City or 417-943-4011 in Springfield for a FREE Estimate
Call Pyramid Roofing Company, Inc. today and let's talk!
We offer Standing Seam Metal Roofs for the following areas and more: